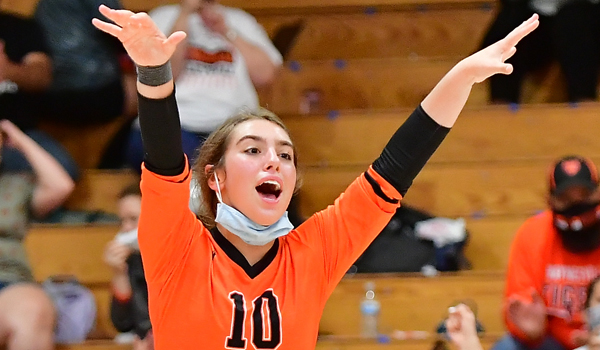 By Chris Parker
Waynesville volleyball has a new head coach in Amber Barkley. Barkley has 16 years of coaching experience including 12 years as a head coach. She was at Odessa high school for 11 of those year. The past four years, Barkley was an assistant at Lexington.
"All of my previous experience comes at smaller districts. I am excited to have the opportunity to work in a large district," Barkley said.
She will be looking to turn around a Waynesville volleyball program that has not had a winning season since 2014.
Things will start with a group of senior leaders that include: Madie Dye, Mary Henry, Jayla Gettys and Anihya Wilson. Henry was an honorable mention all-conference selection last season. She led Waynesville with 278 digs and 385 serve receptions.
CLICK HERE FOR A FULL SEASON SCHEDULE
Sophomore basketball standout Breona Hurd will be a force in the middle for Waynesville.
Transfer Tessa Hibner will also make an impact in the middle in her sophomore season.
"From what I have seen so far this summer, this group is really positive and they like to encourage one another," Barkley said. "Serving and first contacts are always two areas that can be improved on that are essential to be able to win matches."
Waynesville will host a jamboree on Aug. 24 with Rolla and Washington. The Tigers will open the season on Aug. 27 at Jefferson City.
DOWNLOAD THE O-ZONE APP NOW!
APPLE – CLICK HERE TO DOWNLOAD
ANDROID – CLICK HERE TO DOWNLOAD
"Being new to the area and not knowing the conference well, my goal for this team is to improve every single day," Barkley said. "I want to make sure that every practice and every match we are taking the steps in the right direction and always giving 100% in everything we do."
CLICK HERE FOR ALL OF THE FALL SPORTS PREVIEWS
[ad_2]

Originally Appeared Here