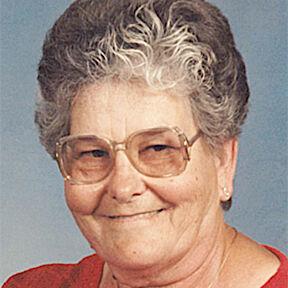 Betty Ann Dobbs, 92, of Festus died Aug. 1, 2021, at Mercy Hospital Jefferson in Crystal City. Mrs. Dobbs was a retired nurses' aide and caregiver at Rose Hill Nursing Home and Jefferson Memorial Hospital. She attended Immanuel Lutheran Church in Crystal City and enjoyed gardening and spending time with her family. Born June 22, 1929, in Festus, she was the daughter of the late Dora Bertha (White) and Shelton Cliff Richardson.
She was preceded in death by her husband: Joseph Dobbs Jr.
She is survived by seven children: Joseph Shelton Dobbs of Jefferson City, Brenda Kay (Rick) Kingston of Texas, Wayne Eugene Dobbs of Festus, Sharon Gayle Ramsey of St. Mary, Michael Ray Dobbs of Festus, Judy Ann (Bill) Rosener of Festus and Pamela Jean Chapman of Cadet; 25 grandchildren; 40 great-grandchildren and 12 great-great-grandchildren.
She was preceded in death by three children: Carol Sue Martin, David Paul Dobbs and Glenda Fay Dobbs; a stepdaughter: Joanna Mae Henneberg; two brothers: Raymond (the late Juanita) Richardson and Dale Glenn Dobbs; and a sister: Norma Lee (the late Cotton) Shumake.
Visitation will be from 4-8 p.m. Tuesday, Aug. 3, at Vinyard Funeral Home, 616 W. Main St., in Festus. Funeral services will be at noon Wednesday, Aug. 4, at the funeral home, officiated by the Rev. Kyle Castens. Memorials may be made to Mercy Jefferson Hospital Hospice. Burial was in Charter Memorial Gardens in De Soto. Arrangements are under the direction of Vinyard Funeral Home.
[ad_2]

Originally Appeared Here