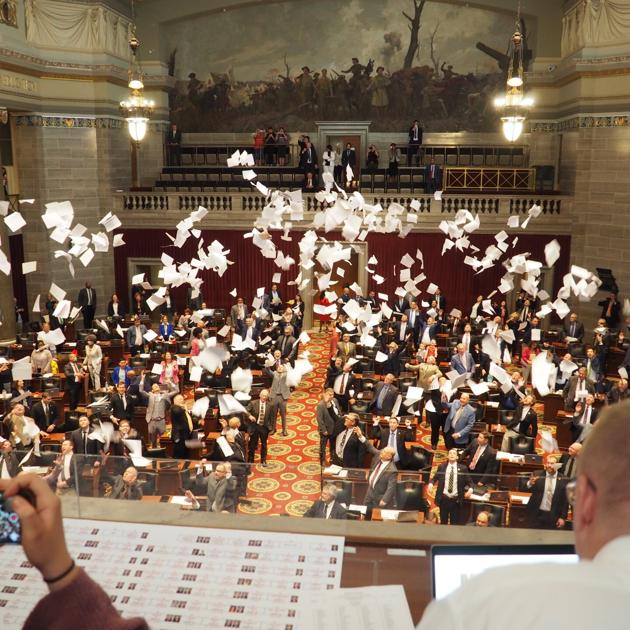 (The Center Square) – Republican and Democrat leaders on Friday took credit for a wide range of bills awaiting Gov. Mike Parson's signature as the 2021 legislative session ended. However, neither party was completely satisfied with the results of the session.
"Some of the things we're proud of as a group and a caucus," House Speaker Rob Vescovo, R-Arnold, told reporters after the session ended. "As I stepped out there in January, I set some goals we wanted to get done. Here we are today with some of those goals accomplished."
Vescovo praised the passage of school choice measures and tax deductions for foster care and adoptions. The House also passed the "Second Amendment Preservation Act" on Friday as some House members yelled, "Freedom," during voting.
"Not everyone in our caucus agrees with everything that we got done, including myself," Vescovo said while surrounded by House Republicans. "There were some things that passed that I didn't vote for. But collectively as a group, we continued to work through some of those things."
House minority leader Crystal Quade, D-Springfield, expressed frustration with the Republicans and their legislative priorities.
"With the Republican majority that seems more interested in serving the interests of the few to the detriment of many, while undermining democracy at every turn, (Democrats) work tirelessly every day to mitigate the damage done by their dangerous agenda," Quade said.
The most memorable action by the Republicans during the session was putting funding for Medicaid expansion in the 2022 budget. Voters approved the expansion last August.
"The Republic response is to simply ignore the Constitution – just ignore it, and intentionally and shamelessly ignore the will of Missouri voters," Quade said. "Our democracy will not long survive when the majority party has no respect for it."
House budget chairman Cody Smith, R-Carthage, mentioned Gov. Parson's action early this week to notify the federal Medicaid officials of discontinuing plans for expansion.
"As (Gov. Parson) reviewed his legal options, it's his opinion he doesn't have the appropriation authority for Medicaid expansion," Smith said. "We certainly concur with that and I think that was the appropriate response on their part."
Smith said Republicans consistently looked to fund state programs for those most in need.
"We chose to prioritize the most vulnerable in society in Missouri who do rely on Medicaid," Smith said. "It's for those folks who aren't able to work and who are unable to provide for themselves. If we paid for things like Medicaid expansion, that's less money for the rest of Medicaid and education."
Vescovo mentioned unfinished work on election reform. Earlier in the week, Chairman Dan Shaul, R-Imperial and six other Republican members of the House Committee on Elections sent a letter to Gov. Parson asking for a special session to complete stalled initiatives.
"I haven't had an opportunity to talk to Chairman Shaul about his letter and what he has requested," Vescovo said. "I will look into that. We're disappointed that those things died at the end of the session as well. It's another disappointing loss for our caucus and for that committee."
House Democrats also brought up elections during their post-session media briefing.
"Just before the session began, 54 House Republicans, including the current speaker, signed a letter promoting the 'Big Lie' about the 2020 presidential election," Quade said. "The letter's organizer skipped the first day of the session to attend the Jan. 6 insurrection at which thousands of people stormed our nation's capitol. That day marked the biggest threat to our democracy since the civil war."
Quade praised Democrats for playing decisive roles in passing a prescription drug monitoring program and establishing a state sales tax for online retailers. No one took credit for the gasoline tax, led by Senator Dave Schatz, R-Sullivan. However, Quade said it was an example of poor policy decisions by the Republicans.
"We have to go to things like regressive taxes and increasing the (gasoline) tax to repair roads and bridges," Quade said. "We have to do that because the Republican majority refuses to fix it through policy. The gas tax increase was not the solution, it was a band-aid. We supported it because it absolutely had to get done. People are begging for infrastructure help and we don't want to be liable when bridges collapse."