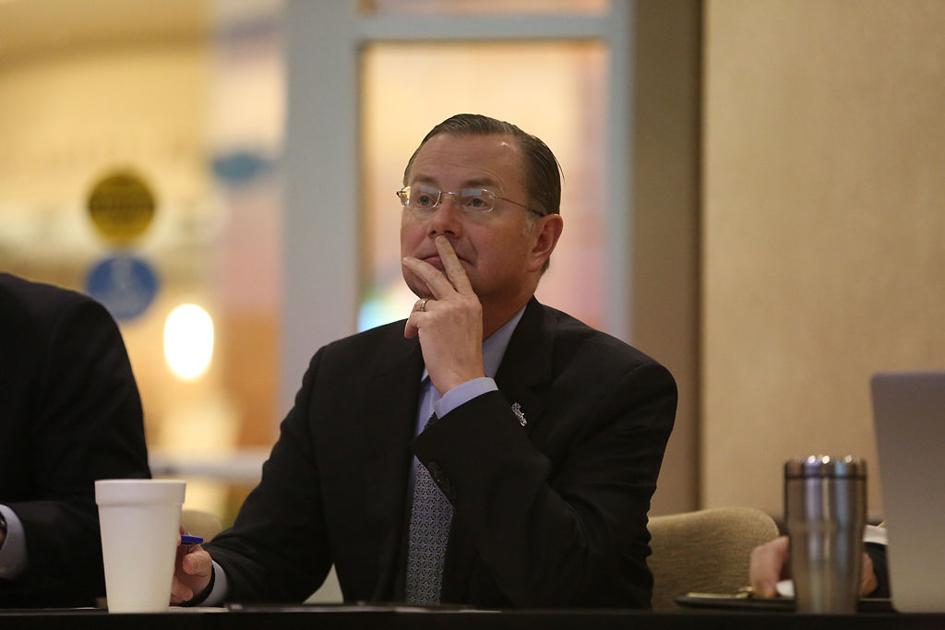 JEFFERSON CITY — Gov. Mike Parson has vetoed a piece of legislation that would have kept Columbia Mayor Brian Treece out of hot water.
The legislation that hit Parson's desk would have created an exemption to an existing state statute and allowed lobbyists running for municipal and school district offices to maintain candidate committees.
Because Parson vetoed that exemption, lobbyists running for office must dissolve any candidate committee, according to the statute.
Treece has been a registered as a lobbyist since 1996 and also co-owns a consulting firm with his wife, Mary Phillips, based in Jefferson City.
The exemption Parson vetoed was included in House Bill 685, a bill introduced by Rep. Jason Chipman, R-Steelville, at the beginning of the legislative session. The exemption was added as a Senate committee substitute by the Committee on Rules, Joint Rules, Resolutions and Ethics, which is chaired by Sen. Caleb Rowden, R-Columbia. 
In Parson's veto letter, he said "public officers should have the interests of the people they represent in mind, not those of the organization they have been hired to represent.
"This change would also only affect a few select individuals. I do not believe that such special laws, which are designed to benefit a few, should guide our state policy."
One of those individuals would have been Treece, who was elected mayor in 2016 and reelected in 2019. 
Treece has been operating a candidate committee since 2015. Parson's veto this month could bring attention to the fact that Treece may be violating a state statute.
Three years ago, Columbia attorney Dan Viets filed a complaint against Treece with the state Ethics Commission. He questioned whether the mayor could be a lobbyist and still operate a candidate committee, the Missourian has reported. The commission has never ruled on that complaint.
Viets said in an email that he is "glad the governor vetoed that bill, and hope(s) the MEC reaches a conclusion soon."
The Missourian was unable to speak to Rowden, Treece or the Missouri Ethics Commission about the matter. 
[ad_2]

Originally Appeared Here