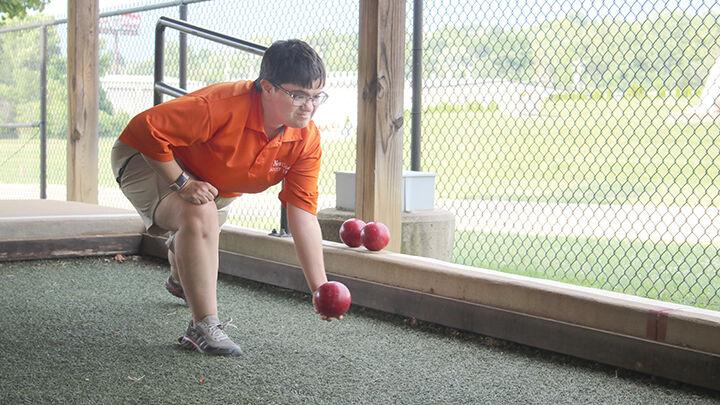 Becca Tincknell had a feeling something special was going to happen when she traveled to Jefferson City this summer for the Special Olympics Missouri banquet.
Tincknell, 40, of High Ridge knew her mother, Kathy Witmeyer, had bought her a new dress to wear to the June 26 event, which included a ceremony celebrating 50 years of the Special Olympics Missouri program. She also knew people would be recognized at the banquet for their contributions to the program and new members of the organization's Hall of Fame would be announced.
"She thought maybe because her whole family was going, maybe we were going to get the Family of the Year award," Witmeyer said.
Tincknell's intuition that an award might be in the offing turned out to be correct; it just wasn't the honor she expected.
Tincknell was inducted into the Special Olympics Missouri Hall of Fame, and she will be enshrined in the Missouri Sports Hall of Fame in Springfield later this year.
"I was shocked," Tincknell said.
Terri Dallas, leisure services coordinator for NextStep for Life, said Tincknell is the fourth person who receives services through the organization, which assists people with disabilities, to be inducted into the Hall of Fame.
"Knowing all the different agencies and the different teams throughout the state of Missouri, there's not many that have four people who were inducted into the Missouri Special Olympics Hall of Fame, so we're very honored with that," said Dallas, who was inducted into the Hall of Fame in 2019.
Dallas said Tincknell didn't show a lot of emotion after receiving the honor, which is not out of character for the humble athlete.
"She doesn't get overly excited about things; she is inwardly," Dallas said. "She does stay very humble."
Athletic prowess
Tincknell began competing in Special Olympics as a first-grader in 1987.
She has collected numerous honors and more than 300 medals from competitions over the past 34 years.
Tincknell was named the 2021 National Association of Women Law Enforcement Executives Ambassador-Athlete of the Year for St. Louis, and in 2014, she was named an Outstanding Special Olympics Athlete for St. Louis.
She also became a Special Olympics Global Messenger in 2008.
"It's great to see someone, especially when it's your daughter, go through sports and stick with them," Witmeyer said. "She does her best and has a blast doing it."
Tincknell competes in six sports – track and field (her original activity), basketball, bowling, softball, bocce ball and flag football.
"It keeps you active; it keeps you in shape," she said.
Witmeyer said Tincknell has a busy schedule.
"Starting with the calendar year is basketball and bowling that flows into track that flows into softball," she said. "Bocce in the fall, which flows into flag football."
Tincknell said bowling and bocce, which also is known as Italian lawn bowling, are her favorites. Her highest score in bowling is 156.
While the awards and accolades that come with excelling at competitions are great, Tincknell said she continues to compete for a more personal reason.
"I keep making new friends," she said.
Travel
Tincknell has had plenty of opportunities to see different parts of the country as a Special Olympics athlete.
In 2018, she competed in the Special Olympics USA Games in Seattle, and in 2014 she competed in the games in New Jersey.
Tincknell also went to Washington, D.C., in 2017 to meet with Missouri U.S. Sen. Roy Blunt and other legislators to advocate for the Special Olympics Healthy Athletes program.
Tincknell and other athletes ventured to Dublin, Ireland, in 2003 to compete in the Special Olympics World Games. She got to travel in Air Force One for the overseas trip, met several celebrities, including Eunice Kennedy Shriver, Colin Farrell and Pierce Brosnan, and went home with a gold medal in tennis.
"It was the first time the Special Olympics have traveled outside the U.S.," Tincknell said.
Work life
Tincknell, who graduated from Northwest High School in 2000, does more than compete in the Special Olympics.
She has worked at the McDonald's restaurant, 4699 Hwy. W, in Byrnes Mill for 21 years.
Tincknell has excelled in her work life as well, earning the Dave Service Award, which is the highest award from the restaurant's ownership group, Christian Foods, in 2020, and she was named the 2017 Employee of the Year.
"(The Dave Service Award) is for customer service, dedication to her job and her work output," Witmeyer said.
Byrnes Mill Police Chief Frank T. Selvaggio said he knows Tincknell from her job at McDonald's.
"She is always helpful, always smiling, always eager to help customers," he said. "She always makes sure that when she sees an officer, she tells them to be safe. She is a very caring person."
[ad_2]

Originally Appeared Here