(The Center Square) – Ten months after images of Mark McCloskey and his wife waving firearms at Black Lives Matter protestors approaching their property became national news, the St. Louis personal injury attorney placed them in his campaign video for the U.S. Senate.
"God came knocking on my door last summer disguised as an angry mob," McCloskey said Tuesday night during an interview on Fox's "Tucker Carlson Tonight" as he announced his candidacy. "It really did wake me up."
McCloskey, 64, is running for the seat held by Republican Roy Blunt, who is retiring in 2022. Republicans Eric Greitens, the former governor who resigned in 2018 after facing a felony criminal charge and an ethics probe, and Missouri Attorney General Eric Schmitt also are running. Other Republican candidates include John Brinkmann, Dan McQueen and Deshon Porter.
Nicholas Strauss is running as an independent.
McCloskey posted a three-minute campaign video with images showing him and his wife standing outside their home on June 28, 2020.
"When the angry mob came to destroy my house and kill my family, I took a stand against them," McCloskey says in the video. "Now I'm asking for the privilege to take that stand for all of us."
Cell phone videos and photographs posted to numerous media outlets show protestors walking near McCloskey's home while heading toward the home of Lyda Krewson, who was then mayor of the city of St. Louis and lived a few blocks away. The protest was sparked by the death of George Floyd while in police custody last year in Minnesota. Minneapolis Police Officer Derek Chauvin last month was convicted of murder in Floyd's death.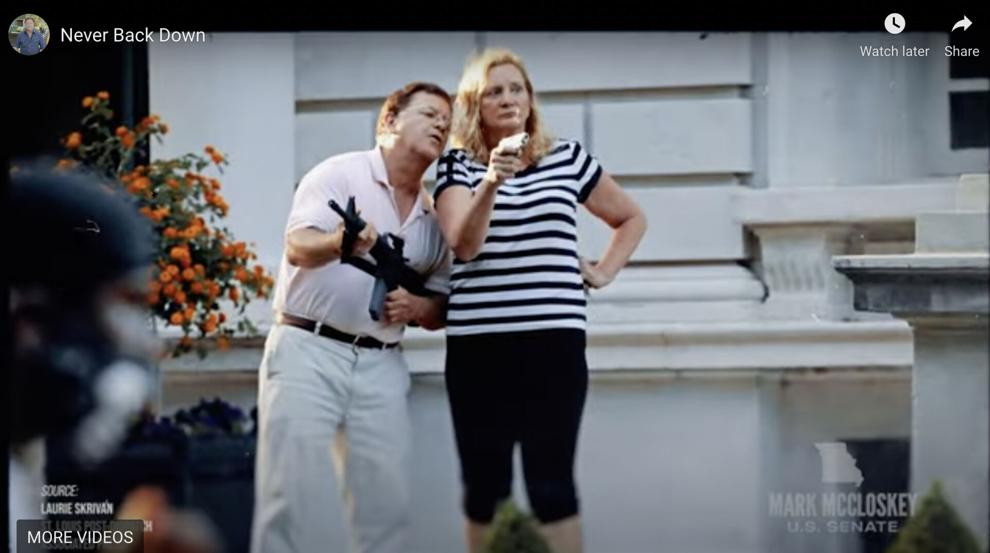 McCloskey and his wife, Patricia, pleaded not guilty to charges of unlawful use of a firearm and evidence tampering last October stemming from the event. St. Louis Circuit Attorney Kim Gardner mentioned the prosecution in campaign fundraising while she ran for re-election last November. A circuit court disqualified Gardner from the case, citing improper fundraising emails.
Richard Callahan, the former U.S. Attorney for the Eastern District of Missouri and a Democrat now serving as a judge in Cole County, was appointed special prosecutor in the case. The next hearing is scheduled for June 17 and a jury trial is scheduled for Nov. 1. Missouri Gov. Mike Parson, while running as a Republican for re-election last October, stated he would pardon the McCloskeys if they were convicted.
State Rep. Rasheen Aldridge, D-St. Louis, posted on Twitter, "Well, Jesus was an activist…"
Aldridge, who told the St. Louis Post-Dispatch he was in the crowd of protestors outside the McCloskeys' house, also posted on Twitter, "You can't make this #MoSen race up. So Mark dislikes Black Lives Matter, and God makes sense."
Scott Sifton, who served in the Missouri Senate for eight years, is the Democratic candidate in the race with the most name recognition. Two veterans, Jewel Kelly, Jr., who served in the Air Force for 10 years, and Lucas Kunce, who served in the Marines for 13 years, also are running for the Democratic party nomination along with businessman Spencer Toder and grassroots community organization Tim Shepard.