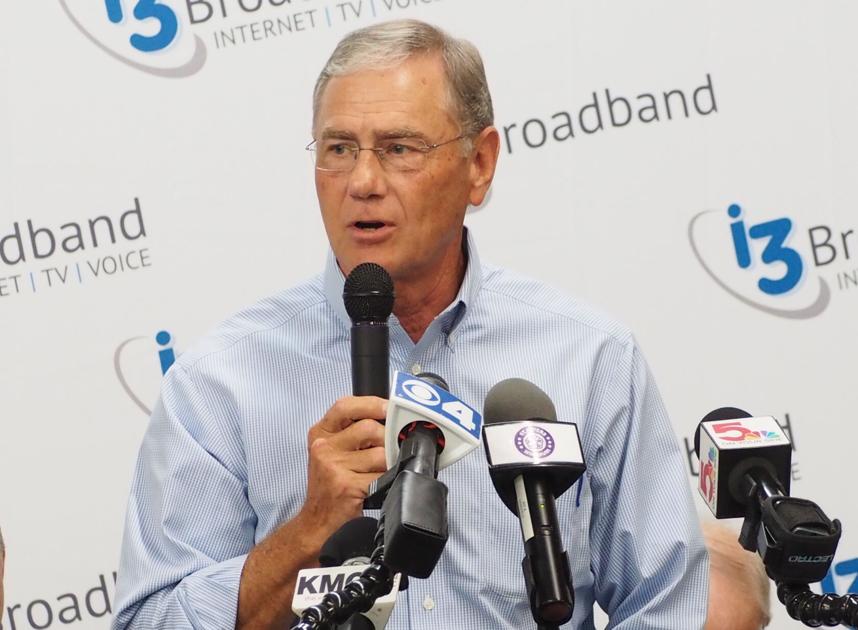 (The Center Square) – Congressman Blaine Luetkemeyer, a Republican representing Missouri's Third District, answered questions from The Center Square on Friday after an event in St. Peters.
Luetkemeyer served in the Missouri House from 1999 to 2005. He was elected to Congress in 2009 and is serving his sixth term.
He shared his views on the infrastructure bill, House Speaker Nancy Pelosi's leadership, China and redistricting in Missouri:
What's your view of the infrastructure bill currently in the House?
Sam Graves (Republican Congressman from Missouri's Sixth District) is the ranking member of the transportation committee. He put together a nice bill of $400 [billion] to $500 billion and it's paid for. It targets infrastructure. But this other bill takes what Sam did and adds about $700 billion of green new deal stuff and doesn't pay for a lot of it. There's about $350 million, by my understanding, that's not paid for.
It's not going to get a lot of support from Republicans because we have an alternative that is very targeted and actually does the job it's supposed to do – deliver funds for infrastructure. This other bill does all sorts of other things. Let me give you a quick example.
A few years ago, highway funds were used for beautification projects. About eight or 10 years ago, we took away the provision and said no, you can no longer do that. We want those dollars to go to highways and bridges to fill bumps and holes in the road and fix our bridges. This bill takes that prohibition out and allows, again, entities to use these dollars for beautification.
I have nothing against beautification, but let the local cities and counties pay for it with their own tax dollars. These are state and federal dollars. We don't need to be using them in that manner when the needs are so great. Originally, 10% had to be used for beautification programs. If you take that prohibition out, you open up Pandora's box for a lot of misuse of funds. And that's very concerning and just one example.
Are all Democrats likely to support the bill if it contains items not directly related to infrastructure?
It's the way these guys operate from the standpoint of trying to put some bills together to be able to pull some of their members who would not vote for a big tax increase or big spending bill – the $3.5 trillion one – unless you put the infrastructure with it. What they're going do is lose a lot of their own members when it happens and it's not going to pass. I don't think they've got the votes for that right now. I think they will lose a lot of Democrats.
AOC [Alexandria Ocasio-Cortez, D-New York] is pushing this and she's pushing Pelosi to do this. As a result, there's a lot of support on their side, but not enough to get it through. So I don't really know what they're trying to accomplish because I don't know anything about the votes to put the bill together and then pass it.
What should people be aware of in the infrastructure bill?
There's a lot a lot of stuff in there for changing over to electric cars. Right now, 2% of the cars in the country are electric. They've got a whole bunch of money in there for charging stations. You talk to people familiar with this – electric companies – and they'll tell you we don't have a grid that's capable of handling even half of the cars if they're electric. Two, we don't have the output of any of the electricity producing companies to produce enough electricity to make this work.
If you want to add extra money in there, put it in pothole repair, put it in bridge repair. Or if you want to make something energy efficient, go make existing gas pumps more energy efficient because that serves 98% of the cars on the road. To add new charging stations for 2% of the cars on the road makes no sense.
This is a backdoor way of getting their foot in the door to run some of these (gas station and convenience stores) out of business. We're not going to put (charging stations) in these (stores). They're going to put them along the road somewhere and, eventually, somebody will build a (store) around it. The (stores) don't want to move everything from one location to another. So I'm concerned that they're trying a backdoor attempt to run the (stores) out of business.
How do you view the leadership of Speaker Pelosi?
She's an interesting individual. I've watched her over the last 12 years and I think she has some of the same problems that our President has. She's over 80 years old and I think she's being run right now, which a lot of people don't realize. She's being run by AOC and the far left.
This is not the Nancy Pelosi I knew when I came in 12 years ago. She would have never done the things she's done. She would never put up with the things she's putting up with now. She's a different person, quite frankly.
I'll give you a quick example. When we left a couple weeks ago, we had to wait 45 minutes because AOC and her folks threw a fit about a bill that was on the floor. Pelosi had to go meet with them and find some way to talk them down and compromise with them so we could pass the bill and go home. That's what's happening. AOC is running the house. She sits on the financial services committee with all the squad members.
People don't understand how this all works. But trust me, she is in the middle of all this – threatening her own members with primaries. She's pushing buttons for a lot of issues behind the scenes that forced Pelosi to take a different tack on a lot of issues.
What keeps you up at night?
What worries me most is we are feeding the lion that is going to eat us – China. It's our willingness to help them grow their economy by investing in their economy. We've had $1 trillion go into their bond market last year and $300 billion went into the manufacturing plants last year. We put $1.3 billion into their economy to help them grow it.
They want to take over the world. They want to take us over by 2049 – that's a stated objective of their Communist Party and their country. Why are we feeding the animal that's going to eat us? President Trump understood this threat. That's why he was trying to get trade with China down by imposing tariffs to minimize our trade with them. I think personally we need to get out of there altogether over the course of five years so we stop feeding these folks who, down the road, will wish us harm. They think and they understand that their economy can be a weapon against us. That's what keeps me up at night.
As the redistricting process begins, would you like to see the state served by seven Republican Congressmen and one Democrat or keep the current balance – six Republicans and two Democrats?
Well, you would always like to have one more Republican. I've heard about and only seen one map that does that. Practically speaking, when you do that, you make anywhere from two to three swing districts. So when the pendulum swings against Republicans, it could be a four-four map. If it swings our way, yes, it could be a 7-to-1 map.
I hope the legislature is smart enough to be satisfied with a 6-2 map so that we can hold those districts. I think we found out this last go around with Ann Wagner (Republican from the First District), here in suburban St. Louis and parts of Jefferson and St. Charles Counties. It was a $30 million race. From our perspective, we don't need to have a $30 million race for a Missouri Congressional seat. We need to be able to use those dollars to take back the House and hold it.
[ad_2]

Originally Appeared Here