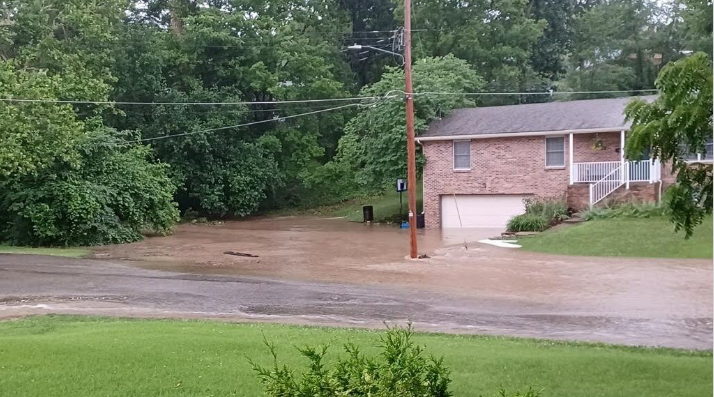 JEFFERSON CITY – Several Jefferson City residents pleaded to the city's public works committee on July 8 asking they address continued issues with flooding damage in neighborhoods.
Residents Amy and Mike Beuchler said they have experienced flooding in their basement and garage for years.
"Every time we get a heavy rain we're really nervous and we have to watch the forecast, watch the rain and see if it's going to come through our garage" Amy Beuchler said.
The family lives on Marilyn Dr., a road at the bottom of three hills. They said water from the creek nearby overflows onto the road, and spreads at all angles into the basement of their house.
The Beuchlers said their basement originally flooded in July of 2009, so the couple put a drain in front of the garage door to help prevent future flooding.
They said the solution worked for seven years until the city replaced the upstream storm water system with new drains. The family said that change increased the amount of water flowing at the bottom of the roads.
The Beuchlers said the culvert by their house isn't big enough to handle the amount of water flooding down the roads and up through the creek, causing the overflow.
They said their basement has continued flooding ever since the change was made.
Success! An email has been sent to with a link to confirm list signup.
Error! There was an error processing your request.
The weekend of June 24-25 the Beuchlers' basement flooded three times, according to the couple. They have moved their belongings out of the area, causing boxes and shelves to fill up their living room.
The flooding fills up to the point where Amy said it even seeps into her car.
"We've lost much of our inner workings of our basement," Amy said.
The family asked the committee that the city address the flooding issue by making a bigger culvert and tracing the pipes all the way down the road instead of stopping at their house.
"We shouldn't have to deal with this over and over and over again" Amy said.
The family said the city's solution so far is for the them to brick up their garage, which Amy says is not a workable solution, as they would not have a way to enter and exit their basement.
The family said they want to see the city address the real problem, which is the size of the culvert and get the water flowing. 
KOMU 8 News reached out to the city's public works department over the weekend, but have not heard back yet. 
[ad_2]

Originally Appeared Here