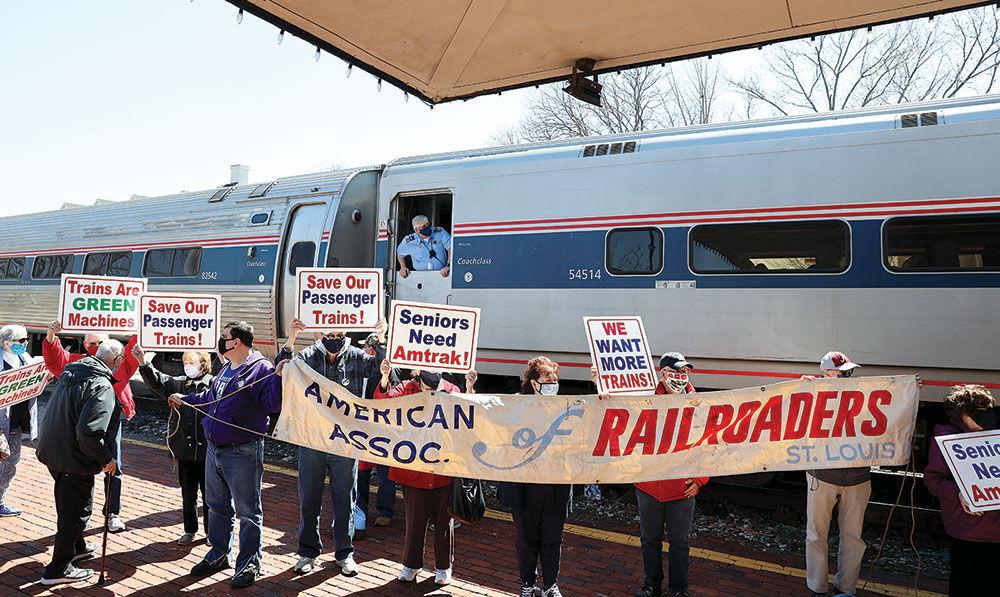 Members of the American Association of Railroaders rally outside of the Kirkwood Train Station on April 1. The group's desire to see the return of two round trips each day between St. Louis and Kansas City has come to fruition — at least for now. | file photo by Ursula Ruhl
Kirkwood is all aboard to celebrate the comeback of the second Missouri River Runner passenger train.
The Amtrak service was cut because of pandemic woes more than a year ago, but will return to the Greentree City on Monday morning, July 19.
"We are excited to see our train and morning service back," Kirkwood Mayor Tim Griffin said. "I think it's fantastic for residents and downtown Kirkwood that we will again have two round trip passenger trains with service from St. Louis to Kansas City.
"It's time to celebrate that we are back as a first-class railroad town, thanks to the added service and the work of the Historic Kirkwood Train Station Foundation and its efforts to improve our iconic station," Griffin added. "We will have a fun morning celebrating on Monday, July 19."
However, after the celebration, there is work to be done. Griffin said it's important for residents to contact state legislators to let them know the second train service should continue past Dec. 31 — it's not a given that it will stay in service because of funding issues.
As for the July 19 celebration, Bill Burckhalter, who coordinates the volunteer workers for the train station at 110 W. Argonne Drive, said because it's the first day of the return of the rail service, volunteers will open the station by 7 a.m., earlier than its usual opening time of 7:50 a.m. Public festivities will begin at 8 a.m.
"We've got to open early to let the band in the station for the celebration," said Burckhalter. "The band is actually called Station Players, with about five or six musicians. They play a lot of bluegrass and country, so they're perfect for this kind of event." 
Burckhalter would not venture to say whether the first song will be "Chattanooga Choo Choo" or "She'll Be Coming Around the Mountain When She Comes."
In addition to the music, there will be swag and refreshments, including some courtesy of Great Harvest Bread Company. There also will be dignitaries from the Kirkwood City Council, Kirkwood Special Business District, Kirkwood-Des Peres Area Chamber of Commerce, the Historic Kirkwood Train Station Foundation and rail safety personnel.
"The actual train will come in about 8:35 a.m. and leave about 8:45 a.m, as is customary," said Burckhalter. "Between 8 and 8:45 a.m., we will have entertainment. People can trust us that the music will be good and the speeches will be short.
"We can't guarantee the weather, but this will happen, come hell or high water," added Burckhalter. "Even if it floods and the tracks west of here go under water, the buses from Amtrak will show up and take passengers to Washington or Hermann to get them where they want to go."
Fredrick Doss, communications manager for the city of Kirkwood, said the local business district is especially supportive of the service because it brings shoppers into the downtown Kirkwood area. He said recent district studies have indicated support for a boutique hotel near the station so visitors by rail to the city would have a place to stay.
"With the pandemic coming to an end and with the passenger service back to normal, I expect there will be some renewed interest in this," said Doss. "I do think this train just has to continue past Dec. 31, and we have to work to make sure that happens."
Jim Wolf has volunteered to open the station and help passengers for more than 11 years. He said the "new" train will pick up around 8:35 a.m. and head to Kansas City. At Kansas City, it will drop off and pick up passengers, then head back to St. Louis. It will come through and make a stop in Kirkwood at 9:07 p.m.
"Having that morning pickup will allow for day trips to Washington or Hermann or Jefferson City," said Wolf. "A lot of Kirkwood residents like to do that, so we will probably see some  familiar faces back here after missing them for more than a year.
"I think all of us volunteers are excited," added Wolf. "We would not be here if we didn't like people, and this is definitely going to increase ridership and increase the foot traffic in our Kirkwood station." 
The Amtrak passenger train that continued its run during the pandemic will continue its normal hours of service. It comes in at about 1:22 p.m. on its way to St. Louis and comes through Kirkwood again at about 4:29 p.m. on its way to Kansas City.
[ad_2]

Originally Appeared Here