(The Center Square) – The Missouri Senate began the final day of the 2021 legislative session on Friday with a medical update and rhetoric showing blood pressures were high and tempers rising.
Sen. Greg Razer, D-Kansas City, fainted after working more than 20 hours in the Capitol and was taken by ambulance to a local hospital. A statement released by Razer's office said he was at home resting on Friday.
Sen. Doug Beck, D-St. Louis, began Friday's late-morning session by updating members with Razer's condition. Beck said he talked with Razer after he was discharged from a hospital. He said Razer sent thanks to all who helped him, but said he didn't remember anything after he fainted. Beck also said Razer encouraged other members and staff to stay hydrated and get proper rest to prevent exhaustion.
Beck, elected to his first term in November, was critical of the culture he witnessed in the Senate, especially the level of trust amongst all members. He said the minority party is always at a disadvantage, but said his discontent was based on more than losing votes.
"I thought the Senate was going to be so much better," said Beck, who served two terms in the House. "I don't know now. I guess the office is bigger. The coffee is better. But the rest is broken."
The Senate passed and sent the Second Amendment Preservation Act to the House on Thursday. It prevents federal authorities from infringing on a person's Second Amendment right to bear arms and holds law enforcement liable for violating the law.
Sen. John Rizzo, D-Independence and the minority floor leader, didn't criticize any specific bill, but said Thursday's session showed the Senate was dysfunctional.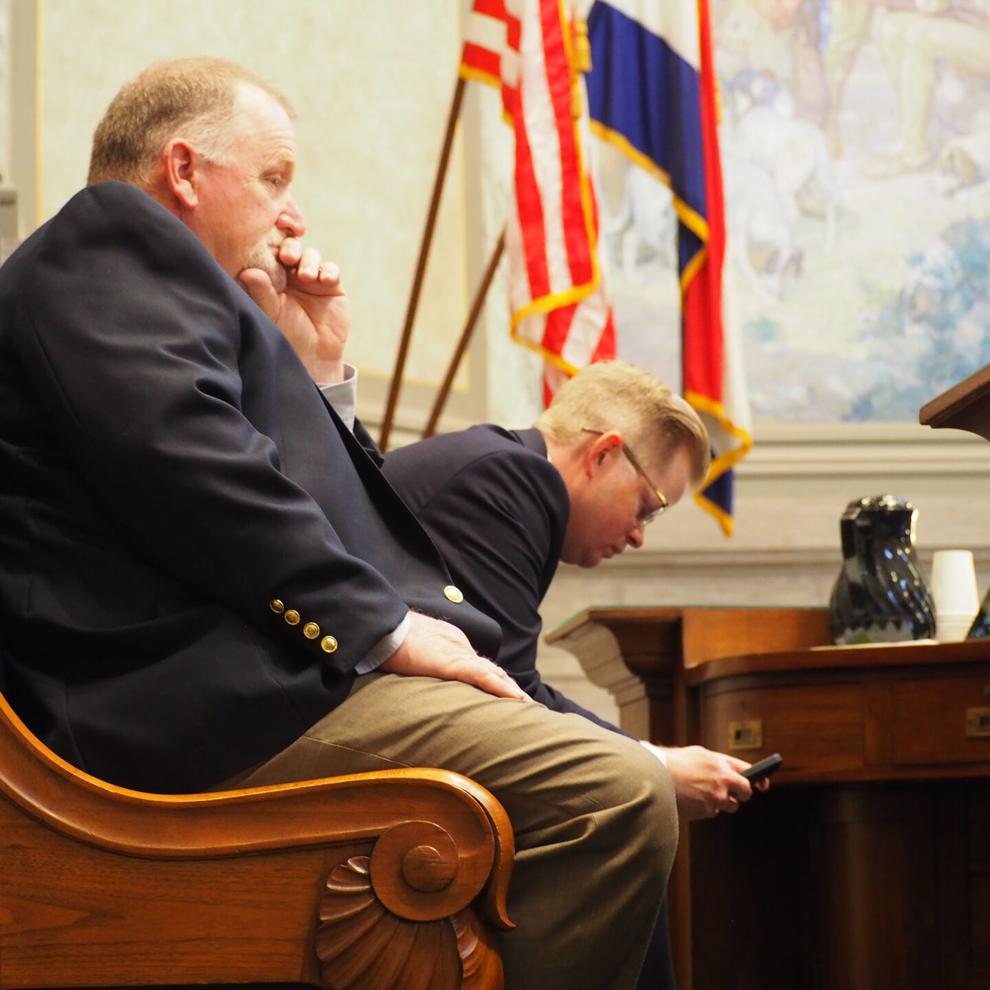 "Last night was as contentious as you can get," said Rizzo, a first-term Senator. "We're broken in the Senate. How we operate is unacceptable to the people the state of Missouri, who expect us to be honorable people and stick by our deals. I was a victim of thinking that tomorrow will be better. But we're continually lied to and getting continually backstabbed."
Sen. Bob Onder, R-Lake St. Louis, agreed with Rizzo and pointed to a lack of candor regarding a Medicaid bill in the Senate.
"Like Sen. Rizzo, there is a certain distrust in the Senate," Onder said. "Sen. (Paul) Wieland and others reached out repeatedly to (Republican) leadership yesterday and they wouldn't tell us anything. They would never be straight with us about passing a Medicaid bill and protecting innocent human life."
Onder said he learned from Rizzo and others that Senate leadership was ready to make Republicans filibuster for 20 hours to ensure the state's Medicaid system would not fund certain types of contraception.
Sen. Lauren Arthur, D-Kansas City, a former middle school teacher, recalled teaching her students about consequences for those who don't live up to their word. She challenged all to review their actions.
"People need to say what they mean and mean what they say," said Arthur, who also served two terms in the House. "If they don't, nothing else matters.
"It sounds like there is a lot of soul searching needed on this and exploring what we are saying and doing. I will do some soul searching myself."
The Senate adjourned about four hours before the 6 p.m. deadline for the session to end. Senate majority leader Caleb Rowden and President Pro Tem David Schatz met with reporters as the House continued to work.
"At the end of the day, I recognize that the position that I'm in and you get a lot of blame and very little praise when good things happen," Rowden said. "That's what I signed up for. My objective is not to wave the Caleb Rowden flag or the Dave Schatz leadership team flag. The objective is to get stuff done. I'm walking out of this session with a lot of really good relationships. In fact, we're standing on a record of accomplishment that we can put up against literally any Senate Chamber during any legislative session over the last decade."
Early Friday morning, the Senate passed and sent to the House legislation making online retailers liable for state sales tax on purchases delivered to Missouri. It passed 145-6 in the House later in the day. Nicknamed the "Wayfair Tax," it was one of Gov. Mike Parson's legislative priorities as Missouri was the only state not capturing sales tax revenue from out-of-state online sales.