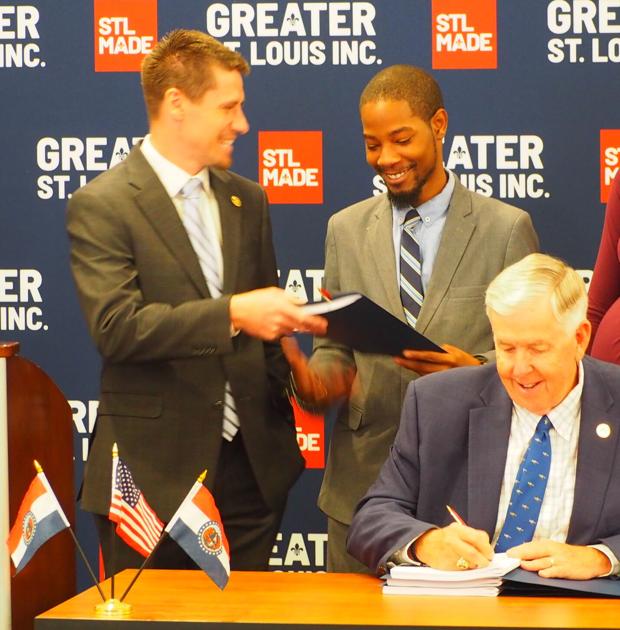 (The Center Square) – Republicans and Democrats were all smiles on Thursday in St. Louis as Missouri Gov. Mike Parson ceremonially signed an omnibus bill into law with a wide range of tax initiatives.
Senate Bill 153 and 97 – a 205-page document – will be best known for implementing collection of sales and use taxes from businesses not physically located in Missouri. Commonly called the "Wayfair tax," it's named after  the 2018 U.S. Supreme Court decision in South Dakota vs. Wayfair, Inc. The ruling allowed states to collect sales and use taxes.
More than $380 million in tax revenue is expected after Missouri's law goes into effect on Jan. 1, 2023. After a three-year effort, Missouri became the last state in the nation to pass "Wayfair" legislation.
Before signing copies of the bill with St. Louis Mayor Tishaura Jones, a Democrat, present in the audience, Parson smiled and said he won't be running for mayor despite visiting St. Louis for several events with Jones during last the week.
"It may sound like we're bickering a lot of times," Gov. Parson said, "but when but when you keep doing things like this and you focus on the big picture, this state will be much more successful. We have a lot of things to be proud of because we worked together on a lot of issues, and I think 'Wayfair' is a perfect example."
Parson and representatives from Greater St. Louis Inc., a new organization created by merging several civic groups last year, emphasized how "Wayfair" helps businesses no matter where they're located.
"You want to help businesses all over the state?" Parson asked the group. "This is how you do it. You want to help the small businesses in St. Louis? You want to help the small businesses in rural Missouri? This is how you do it as you make the playing field even."
Two legislators – Senator Andrew Koenig, R-Manchester, and Representative Rasheen Aldridge, D-St. Louis – joined Gov. Parson at the signing.
"eBay or Amazon are going to have to collect the taxes," Koenig said. "If there's a business selling less than $100,000, they won't be required to collect the tax."
Passage of the bill was praised by business leaders throughout the state.
"This bill is especially timely as we work to reopen businesses across the state," Daniel Mehan, president and CEO of the Missouri Chamber of Commerce, said in a statement. "It never made sense to place our own Missouri employers at a disadvantage against out-of-state retail giants."
Koenig also highlighted a provision in the bill limiting tax-increment financing (TIF). Beginning Jan. 1, 2022, new projects will be prohibited from TIF authorization in areas designated as a flood plain by the Federal Emergency Management Agency, with a few exceptions.
The legislation also establishes an earned income tax credit (EITC) for families. Beginning in 2023, the Missouri Working Family Tax Credit Act can be applied to a taxpayer's Missouri income tax liability after all reductions for other credits for which the taxpayer is eligible have been applied.
The amount of the credit will be 10% of the amount of the taxpayer's federal earned income tax credit and may increase to 20%. The percentages will be dependent on increases in the state's general revenue collection during the previous fiscal year. If general revenue exceeds the highest amount of net general revenue collected in any of the three fiscal years prior by at least $150 million, percentages will increase.
"The EITC will help families by increasing take-home pay and reduce poverty," said Aldridge, a member of the Ferguson Commission, which recommended the tax break in its 2015 report. "Hundreds of thousands of families will benefit from this."
[ad_2]

Originally Appeared Here