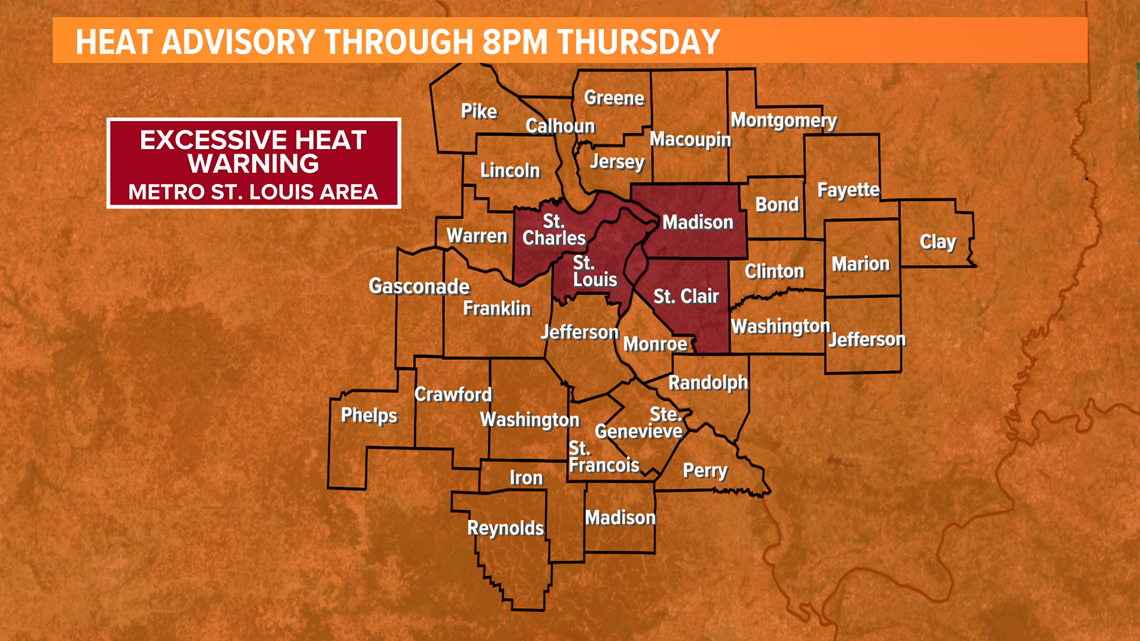 ST. LOUIS — An excessive heat warning remains in effect for the metro St. Louis area through Thursday evening. Heat advisory is in effect for the rest of the bi-state region. 
High temperatures both Wednesday and Thursday will top out in the mid to upper 90s with heat index values pushing over 100 and in some cases over 110°. The only brief relief would come in the form of a few scattered thunderstorms.
Download the free 5 On Your Side app to get the latest watches and warnings and track conditions live with our interactive radar. Use the links below to download now. 
5 On Your Side news app
iPhone | Google Play
RELATED: Live interactive radar
READ MORE: St. Louis forecast: Hot, humid and stormy this week
High heat coupled with high humidity increases the risk for heat-related illness.
Limit your time outdoors and in the sun during the hottest time of day. Wear loose, light-colored clothing and try to get into the air conditioning as often as possible. Drink plenty of water. Keep pets inside during heat like this and remember to check on elderly family and friends along with your children.
If you're outside this week and not sweating, that could be your first sign that you may be getting overheated and/or dehydrated. 
https://www.youtube.com/watch?v=videoseries
[ad_2]

Originally Appeared Here