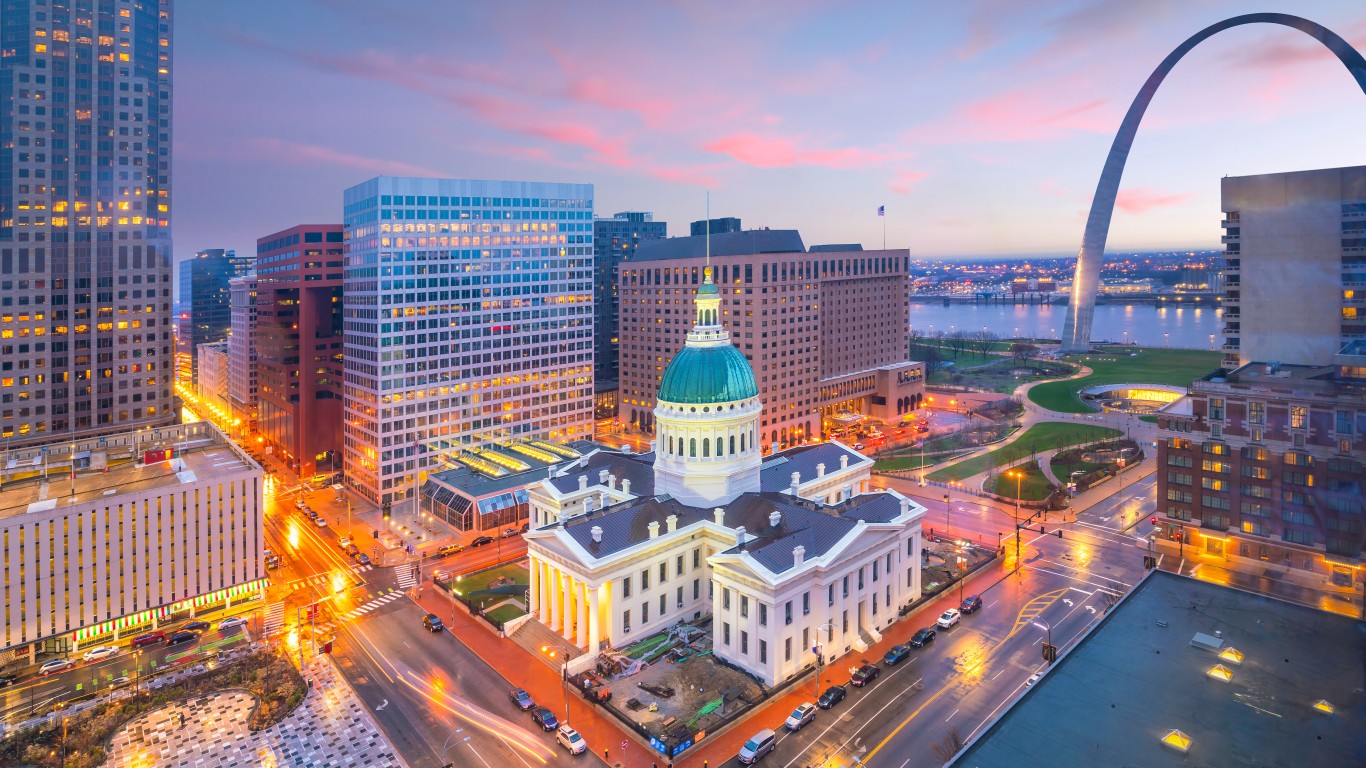 The Food and Drug Administration on Monday approved the first new treatment for Alzheimer's disease in about 20 years. Currently available Alzheimer's drugs treat the disease's symptoms. The newly-approved medicine, called Aduhelm, is the first to attack a substance that could be associated with the underlying causes of the disease — a toxic and sticky protein in the brain called amyloid.
The Alzheimer's Association estimates that 6.0 million Americans 65 and older were living with the disease as of 2020, or 12% of the 65 and over population. As more and more of the baby boomer generation reaches that age, the number of Americans with the disease will inevitably increase.
The increase in the number of people 65 and over with Alzheimer's disease in Missouri between 2000 and 2025 is expected to be the 3rd smallest at 8.3%. The number of older Americans with Alzheimer's is projected to grow by 18.5% during that time.
As of last year, 120,000 Missouri residents over the age of 65 have been diagnosed with the condition. The number is estimated to increase to 130,000 by 2025.
Missouri is tied with Wisconsin for the second-lowest projected increase in the number of older adults with Alzheimer's disease in the next five years. Age is the biggest risk factor for the disease — the vast majority of those diagnosed are 65 and older. Retired older adults in Missouri with the disease may struggle to afford care as the state's average retirement income of just under $24,000 is one of the lowest in the nation.
To determine the states where Alzheimer's is soaring, 24/7 Wall St. reviewed the projected increase in the number of Americans 65 and older with Alzheimer's disease between 2020 and 2025 in every state from the 2021 Alzheimer's Association's Alzheimer's disease Facts and Figures report. These are the states where Alzheimer's is expected to increase significantly.
| State | People 65+ with Alzheimer's: 2020 | Est. people 65+ with Alzheimer's: 2025 | Percentage increase | Pct. of population 65+ | Pct. of population 65+ with Alzheimer's |
| --- | --- | --- | --- | --- | --- |
| North Dakota | 15,000 | 16,000 | 6.7% | 14.9% | 13.3% |
| Missouri | 120,000 | 130,000 | 8.3% | 16.5% | 11.9% |
| Wisconsin | 120,000 | 130,000 | 8.3% | 16.5% | 12.6% |
| New Jersey | 190,000 | 210,000 | 10.5% | 15.9% | 13.5% |
| Iowa | 66,000 | 73,000 | 10.6% | 16.7% | 12.6% |
| South Dakota | 18,000 | 20,000 | 11.1% | 16.3% | 12.7% |
| New York | 410,000 | 460,000 | 12.2% | 16.1% | 13.0% |
| Rhode Island | 24,000 | 27,000 | 12.5% | 16.8% | 13.5% |
| Kansas | 55,000 | 62,000 | 12.7% | 15.4% | 12.2% |
| West Virginia | 39,000 | 44,000 | 12.8% | 19.4% | 11.1% |
| Illinois | 230,000 | 260,000 | 13.0% | 15.2% | 11.8% |
| Oklahoma | 67,000 | 76,000 | 13.4% | 15.3% | 11.1% |
| Ohio | 220,000 | 250,000 | 13.6% | 16.7% | 11.3% |
| Connecticut | 80,000 | 91,000 | 13.8% | 16.8% | 13.3% |
| Mississippi | 57,000 | 65,000 | 14.0% | 15.4% | 12.4% |
| Nebraska | 35,000 | 40,000 | 14.3% | 15.4% | 11.9% |
| Pennsylvania | 280,000 | 320,000 | 14.3% | 17.8% | 12.3% |
| Alabama | 96,000 | 110,000 | 14.6% | 16.5% | 11.9% |
| Kentucky | 75,000 | 86,000 | 14.7% | 16.0% | 10.6% |
| Massachusetts | 130,000 | 150,000 | 15.4% | 16.2% | 11.7% |
| Arkansas | 58,000 | 67,000 | 15.5% | 16.6% | 11.6% |
| Michigan | 190,000 | 220,000 | 15.8% | 16.7% | 11.4% |
| North Carolina | 180,000 | 210,000 | 16.7% | 15.9% | 11.1% |
| Tennessee | 120,000 | 140,000 | 16.7% | 16.0% | 11.2% |
| Washington | 120,000 | 140,000 | 16.7% | 15.1% | 10.7% |
| Indiana | 110,000 | 130,000 | 18.2% | 15.4% | 10.7% |
| Maryland | 110,000 | 130,000 | 18.2% | 15.0% | 12.2% |
| Louisiana | 92,000 | 110,000 | 19.6% | 15.0% | 13.2% |
| Hawaii | 29,000 | 35,000 | 20.7% | 17.8% | 11.4% |
| Maine | 29,000 | 35,000 | 20.7% | 20.0% | 10.8% |
| Colorado | 76,000 | 92,000 | 21.1% | 13.8% | 9.8% |
| Delaware | 19,000 | 23,000 | 21.1% | 18.2% | 10.9% |
| Minnesota | 99,000 | 120,000 | 21.2% | 15.4% | 11.5% |
| California | 690,000 | 840,000 | 21.7% | 14.0% | 12.6% |
| Oregon | 69,000 | 84,000 | 21.7% | 17.2% | 9.7% |
| Idaho | 27,000 | 33,000 | 22.2% | 15.4% | 10.2% |
| Texas | 400,000 | 490,000 | 22.5% | 12.3% | 11.6% |
| Montana | 22,000 | 27,000 | 22.7% | 18.2% | 11.5% |
| New Hampshire | 26,000 | 32,000 | 23.1% | 17.5% | 11.0% |
| New Mexico | 43,000 | 53,000 | 23.3% | 16.9% | 12.2% |
| Utah | 34,000 | 42,000 | 23.5% | 10.8% | 10.2% |
| Florida | 580,000 | 720,000 | 24.1% | 20.1% | 13.8% |
| South Carolina | 95,000 | 120,000 | 26.3% | 17.2% | 11.0% |
| Georgia | 150,000 | 190,000 | 26.7% | 13.5% | 10.7% |
| Virginia | 150,000 | 190,000 | 26.7% | 15.0% | 11.8% |
| Alaska | 8,500 | 11,000 | 29.4% | 11.2% | 10.3% |
| Wyoming | 10,000 | 13,000 | 30.0% | 15.7% | 10.9% |
| Nevada | 49,000 | 64,000 | 30.6% | 15.4% | 10.7% |
| Vermont | 13,000 | 17,000 | 30.8% | 18.8% | 11.1% |
| Arizona | 150,000 | 200,000 | 33.3% | 17.1% | 12.4% |