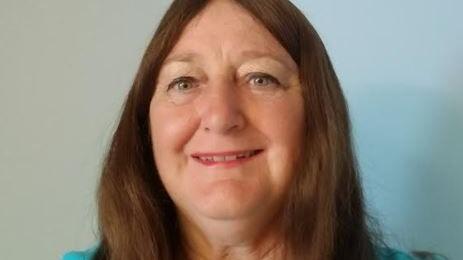 MONROE CITY, Mo. — On August 30, Linda Webb spoke at the biannual American Public Works Association PWX conference in St. Louis. The event draws thousands of public works professionals each year for educational resources and new product exhibits relating to the field. This the second time Webb has been invited to speak at the conference.
Webb has lived on the outskirts of Monroe City since she was young, and is the owner of Training & Beyond, LLC. Through her part time business she is a contract instructor and trainer for the Missouri Local Transportation and Local Resource Center (LTAP) and other businesses in construction. Webb also speaks throughout the year at various conferences around the country.
Whenever she stands before a crowd to speak, she knows it was a trail of blood, sweat and tears that led her to the stage. Before starting her business in 2001, Webb entered the workforce at Missouri Department of Transportation (MoDOT) in 1984 as one of the first women hired within the company in the Northeast District.
"I started at MoDot as one of an elite few females in highway maintenance work. I was either the third or fourth woman that I am aware of in the 13 counties," she said. "When I first got there, the guys didn't cuss for two weeks. Like someone told them, 'You got a woman coming so you better shape up.' That lasted about two weeks, and I didn't cuss then but I do now."
Webb said everything she learned was through the school of hard knocks, and her path from mowing the grass on the highway median to training and leading thousands of other employees to safer and more effective work, has been a long one.
Webb worked for MoDot, mowing for the state on a tractor and pulling a brush hog behind her, for nearly fourteen years. Long before she left the job, it began to take a toll on her body. In 1992 she began going to a chiropractor with back problems.
That's when she decided to pursue her education. Webb earned her Bachelors of Science degree in Organizational Management in 1999 at Hannibal LaGrange College, now Hannibal LaGrange University, and in 2005 she completed her Masters degree in Business from Columbia college.
Working full time at MoDot and attending classes was a challenge.
"Every time we had a ten minute break, I opened a book. Every time we had a thirty minute lunch, I opened a book. I carried it with me on my tractor and it was the only time I could study," she said. She also continued to apply within the company for other types of that would be less taxing on her body.
December 1997 was a critical turning point for Webb as her doctor gave her grave news.
"He told me two more years, it would be carpal tunnel, three years would be tennis elbow, and five years would be back surgery if you don't get off that tractor," she said. "I couldn't continue on the tractor, mowing with a six foot brush hog."
Although she knew MoDot wouldn't fully cover the tuition, Webb enrolled in cohort-style courses where a group of students went through classes together to earn their degrees in a year and a half.
Shortly after enrolling in college, Webb finally received an offer she couldn't refuse. In 1998, just one day shy of fourteen years on the tractor, she left her position, and became a Construction Inspector for MoDot in Mexico, Missouri.
"We would go out and test asphalt. We were out on the road when they build a bridge making sure the contractor was doing inspections and following the plans and all of that," she said. "We did a lot of asphalt overlays to check materials."
This offered relief for her body, but a challenge when it came to attending school at HLG, as two absences would force her to retake the entire course.
"I got up at 5 o'clock in the morning on Monday through Wednesday to get to work by 7 o'clock then drive to Hannibal, eat at Taco Bell or something, then sit in class until 10 o'clock. By Wednesday morning I felt like I had worked a 40 hour week already," she said, adding thatThursday and Friday she ran her Avon business and on Saturday and Sunday she wrote papers. "I had no life. I knew I had to do it. So I just put my head down and did it."
Webb's talent, passion, and knowledge didn't go unnoticed. Only two years later in 2001, she began developing maintenance training for MoDot in Jefferson City. 
Within the same year, and after MoDot experienced a layoff causing approximately 13,000 workers to lose their jobs, Webb discovered her own job was in jeopardy and retired from the company to start one of her own. Now she travels around the country to train people in maintenance, and her goal is to teach process training. She wants people to know how to do their job safely and efficiently.
"When I go to train I don't just want to train about the safety of the machine and OSHA. I train in a different way," she said. "When I trained at MoDot they told me all the things I can do and all the things I can't do and should do, but no one told me how to go mow that road or intersection safely."
Her hope is that she can help people to take pride in their work, create high quality projects that last, and enjoy their jobs in the meantime.
Webb credits her work ethic to her childhood in the country.
"One of the things that helped survive the transportation industry was having the horse background and the toughness of being a cowgirl," she said. "We fed twice a day and cleaned barns twice a day. We bucked hay."
Just like always, Webb is staying busy with her business and her horses, and she doesn't plan to slow down anytime soon.
"I have all these chairs around but they never get sat in very much," she said.
[ad_2]

Originally Appeared Here